AFM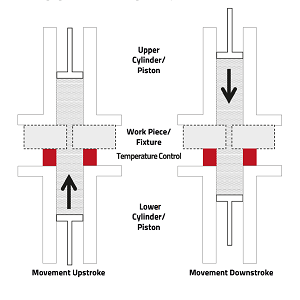 What is AFM?
Abrasive Flow Machining (AFM) is more than a deburring and finishing system capable of an 80% improvement in surface finish. It's more than a process that can remove less than 25 Microns of material to attain an ultra high purity finish, even in inaccessible internal areas. It's more than a technology that can maintain tight aerospace tolerances. 4mi AFM is an engineered solution customized to solve your finishing applications.
Key industries served:
• Turbines – Aircraft & Industrial
• Aerospace
• Ultra High Purity
• Pharmaceutical & food processing
• Aluminium and PVC Extrusion
• Automotive
• Hydraulics & pneumatics
• Medical devices & implants
All AFM machines provide clamping and sealing of the fixtured workpieces with the ability to flow Media through the workpiece under one of a number of control strategies.
AFM works as a "Flowable grinder", using a viscous abrasive Media which is pumped back and forth under pressure, conforming to the profiles – internal or external – being finished. Pressure, flow rate and temperature are programmed to suit the application, allowing AFM machines to edge-condition and finish material from aluminum to high-temperature alloys while maintaining tight tolerances and geometry.
See the diagram above – especially note the vertically opposed upper and lower Media cylinders. Media is pumped from the lower Media cylinder through the fixtured workpieces into the upper Media cylinder. Flow is then reversed and media is pumped back through the fixtured workpieces into the lower Media cylinder. This is defined as a Media flow cycle and is often used as a key process variable.
Abrasive Flow Machining is ideal for processing interior surfaces and other mechanically inaccessible internal areas.